China - April foreign trade
Exports declined 6% MoM in April, the biggest fall in any normal month since April 2019. As they did then, the lockdowns probably explain some of the decline, and the leads, while clearly pointing down, don't point to the rate of decline in April being sustained.
Still, this is an important data point. Across the region, there's growing indicators of a real export slowdown that will likely become more visible in 2H22. That matters for China because the authorities in Beijing are showing a 2020-style unwillingness to provide "too much" domestic stimulus, even though all these data are suggesting that China won't be able to rely on a 2H20-style export pick-up to lift the economy out of its current covid-related difficulties.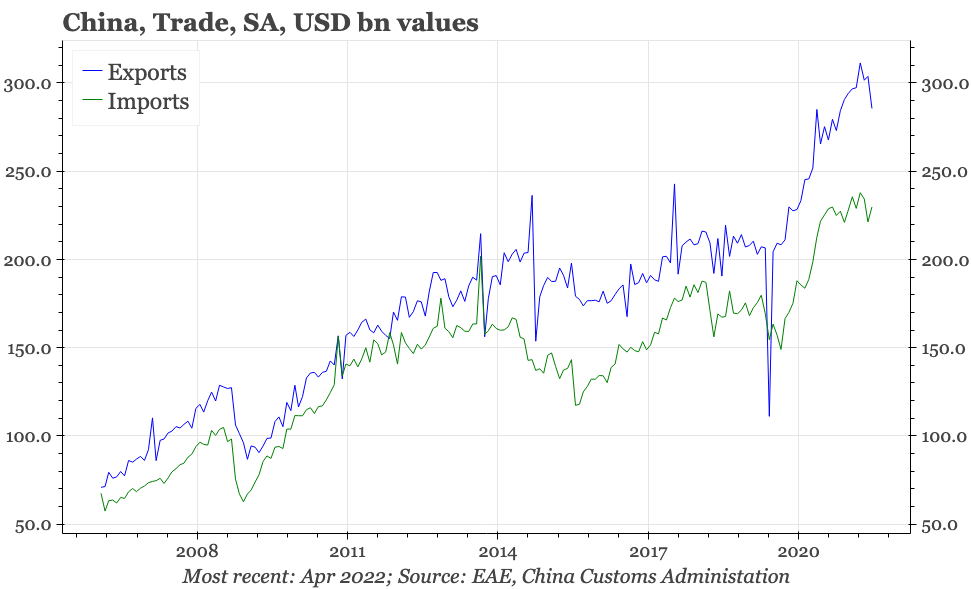 The further slowdown in the trend of retained import growth in April to just 5% YoY in April perhaps in part reflects the impact on demand of the recent lockdowns and other restrictions rolled out by the central authorities to try to push covid cases back towards zero. But the big driver was the slowdown in domestic construction that began in 2H21, and that trend suggests retained imports will be contracting YoY through the second half of this year.
Along with the fall in exports, the surging trade surplus also receded in April. The surplus does though remain large, and anyway, trade-related flows probably aren't particularly decisive in determining the value of the CNY when there's such big moves happening in global interest rates. Certainly, the rise in US rates suggests there's a lot more upside for $CNY from here.