China - April inflation
Food price inflation rose in April, pushing up overall CPI. But core remains subdued, and PPI inflation fell back.
CPI inflation rose to 2.1% YoY in April, from 1.5% in March. That reflected a rise in food price inflation back up to 1.9% YoY, the highest since late 2020. That seems to reflect supply issues in late March and early April at the beginning of this latest Covid-19 outbreak. Food prices at that time rose, interrupting the seasonal fall that usually occurs between the Lunar New Year holiday and late June.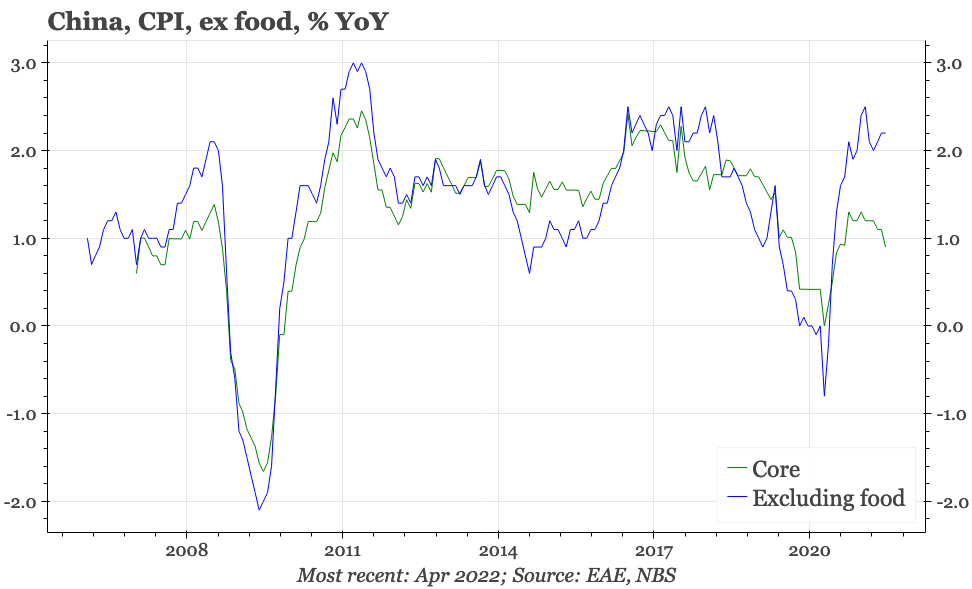 Daily wholesale data in the last few weeks suggest food prices have once again started to fall, though for now, the extent of the decline is modest. This bears close monitoring because recently the need to "stabilise prices" has been appearing in official statements, and because this rise in food prices is just about the only sign of rising inflation in China right now.
Asset prices in the economy weak right now. Core CPI was once again sluggish in April. Leading indicators do imply that should turn up, but modestly. Within CPI, energy price inflation accelerated in April, but global prices don't point to a lot more upside from here. Indeed, overall PPI inflation softened to 8% YoY in April. In absolute terms that is of course still high, but the trend of recent months is down, and if global price indices and the relationship of those with the USD prove accurate, there's more downside for PPI inflation ahead.