China – May NBS PMI
The May PMIs are backward-looking; clearly the bigger story right now is the easing of covid lockdowns. But today's surveys are still useful, suggesting there are some important headwinds to how fast a recovery there can be from here.
The PMIs rose MoM in May, but didn't get above 50, suggesting the economy contracted for the third consecutive month. It is notable that the construction PMI bucked the trend of MoM improvement in May, and looks to have fallen again to the weakest on record. In manufacturing, output improved in May, but orders didn't, and inventories remain high. Export orders did improve last month, but as with the overall PMI, remained below 50.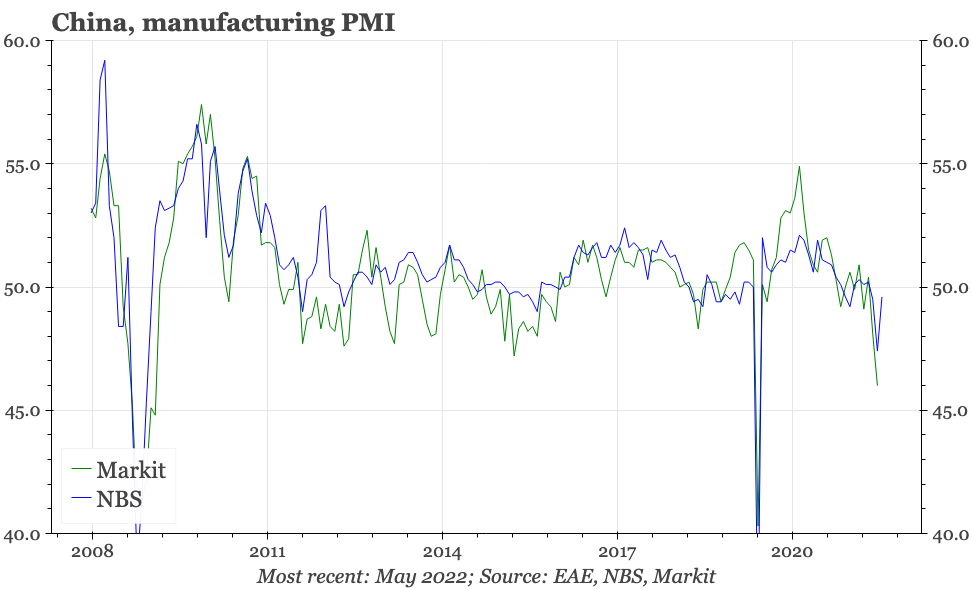 Policymakers might take some relief from the fact that the 6M outlook scores for both manufacturing and non-manufacturing remain above 50, though relative to their histories, for both sectors the scores aren't especially high. Prices in today's surveys also eased, which continues to indicate inflation shouldn't be a concern.
It is possible to lay out quite a bullish scenario here: financial conditions are pointing to the PMIs having quite a decent  bounce here. That is something to be keeping in mind. It seems optimistic though given the headwinds the economy faces, with the weakness of construction a particular concern. At the least, I'd imagine the policy direction needs to be clearer for the cycle to engage with a strong recovery.