Korea – May business sentiment
At the margin, today's business sentiment data likely tilt the BOK to remain more hawkish for a bit longer. Korea isn't facing stagflation. Rather, as has been the case recently, growth is strong and inflation rising inflation. Given that backdrop, there's likely more tightening ahead.
Some cracks are appearing in the business cycle across the region, but so far, no more than that. The outlook scores for business sentiment in Korea remained elevated through June, with the rather sharp fall in exporter confidence of the last couple of months reversing a little.
At the same time, companies continue to report elevated input and output prices. Neither is accelerating up, but the combined result suggests CPI momentum will remain strong at least through Q3.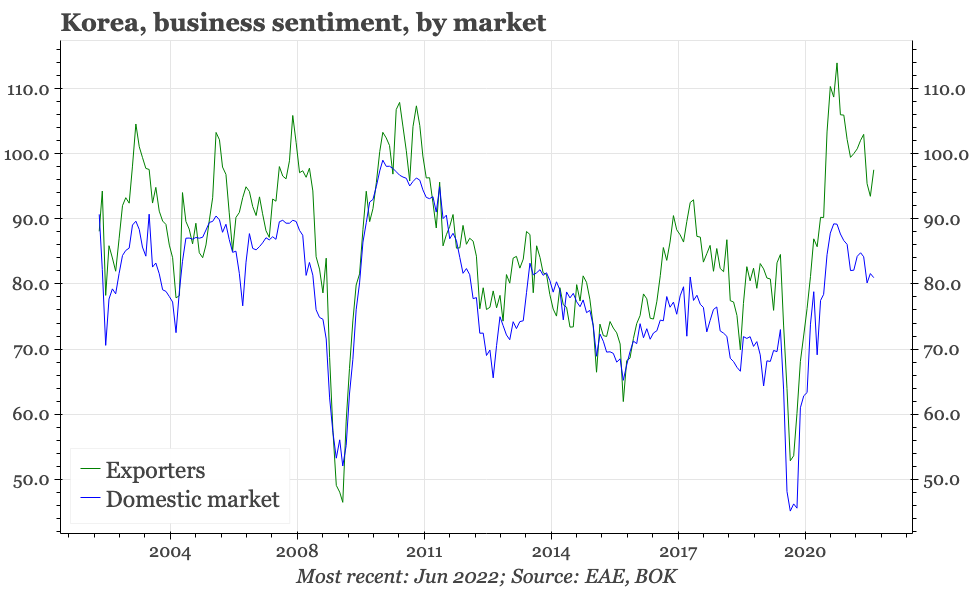 With the different signs of slowdown across the region – Korean sentiment itself in April and May, recent Japan machinery orders, and Taiwan export orders – I was expecting the drop in exporter sentiment to continue this month. The diffusion across industries remains soft, suggesting the headline will fall in the coming months. But still, the overall regional picture continues to be one of modest slowdown rather than collapse.