Taiwan - Q1 GDP & March LI
Q1 growth was strong. The official leading indicator for March is pointing to a clear slowdown, but more gradually than the path suggested by equities.
The rate of expansion of Taiwanese GDP slowed in Q1, but not by enough to knock the economy off the much higher QoQ growth trajectory that it has been on since the pandemic hit. A big reason for the acceleration in growth has been the marked step-up in exports, particularly of semiconductors. The GDP data showed no slowing in that trend, which is broadly consistent with monthly export data during Q1.
It was a little disappointing that despite this strength in external demand, capex spending slowed in Q1. Some of that seems to be a difficulty in sourcing machinery quickly enough, and given TSMC's aggressive capital spending plans for the year as a whole, the pace of capital investment should pick up from here.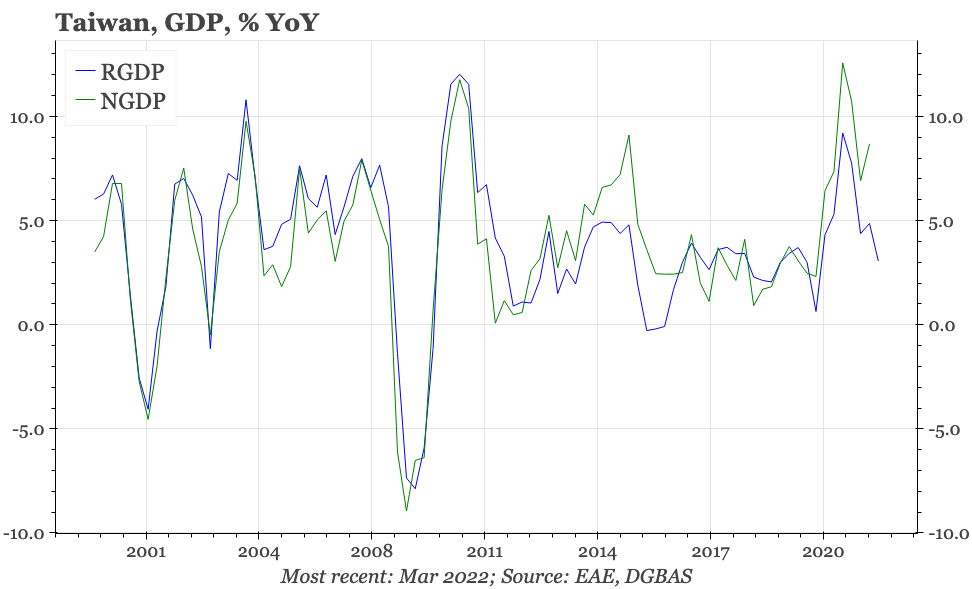 In its recent earnings release, TSMC did remain constructive on the outlook. The market is less convinced, and there are signs that exports are now facing headwinds. TSMC's share price - which given the dominance of the firm in the local economy, has some macro relevance - is down 22% since the all-time high recorded in January. The government's own monitoring index, which has been quite a reliable guide to the outlook, also fell in March for the third consecutive month. That said, it is still at a level that would suggest YoY export growth of above 20% for the next three months.