This is what happened on East Asia Econ this week.
Different data in the last few days suggest the regional industrial cycle is now slowing quite sharply. That should bring down inflation too.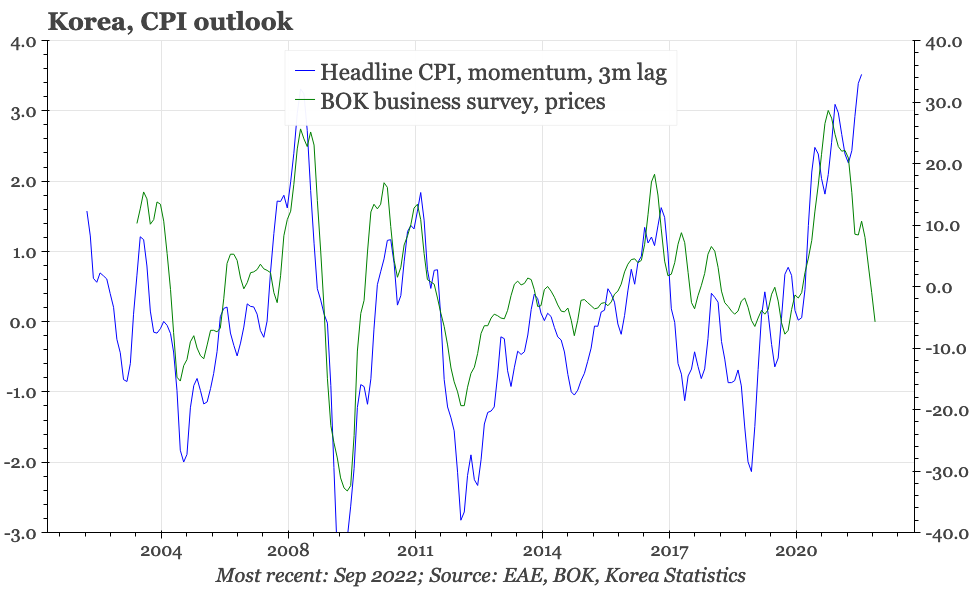 The August official PMIs gave no sign of a change in the economy. Growth remains weak, and even without new Covid-19 lockdowns, doesn't look likely to turn up any time soon. Price indicators continue to suggest deflation is a bigger risk in China than inflation.
Two datapoints last week were interesting, suggesting that a turn in the economy might, finally, be in the works. First, while headline coincident data for the labour market were unchanged in July, there was a jump in the new offers:applicants ratio. Second, sentiment improved in the consumer confidence survey for August. That was surprising given inflation expectations remained elevated, and usually, consumers are less confident when they expect prices to rise. Neither of these two shifts are big enough to conclude that the long-awaited post-pandemic normalisation of the services economy is occurring. But that possibility does now seem bigger than it did a week ago.
Exports fell in August at the sharpest rate since early 2020. The data are following our leading indicator, which points to exports falling 10% YoY in the next 3M. Headline inflation slowed in August, but core remained elevated. The strength of underlying inflation makes it easy to assume the BOK remains hawkish in the short term. But with growth now slowing, pricing around the BOK into 2023 is starting to look more interesting.
The August PMI suggests there's a big industrial cycle slowdown in the works. That is important for Taiwan and the TWD. Because it suggests more downside risk for the regional export cycle, the weaker PMI also has implications for Korea and China.
Taiwan and China foreign trade data next week are the next inputs in assessing how quickly the regional export cycle is slowing. The wage and consumption data for Japan that be released on Tuesday and Wednesday will be less important than the Economy Watchers survey on Thursday. If there is a turn occurring in the domestic economy, it should show up here. Next week also bring inflation data in Taiwan and China.