This is what happened on East Asia Econ this week.
There's quite a lot of differentiation in macro stories across the region. The export cycle is slowing. That doesn't matter much for policy in Taiwan, which hasn't tightened much, but is an important shift in Korea given the hawkishness of the BOK. The BOJ isn't hawkish, but there will be pressure to change if the tentative signs of labour market tightening in Japan continue. China's cycle remains weak, but for the first time in a while, macro risks in aren't all pointed down, with the construction PMI suggesting a mild turn for the better, and property policy easing further.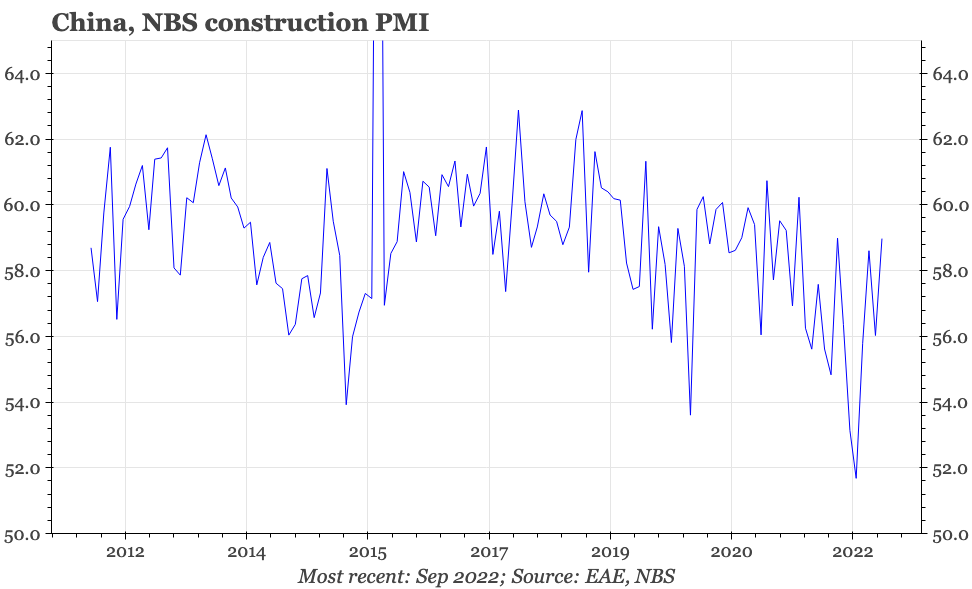 The overall tone of the September PMIs suggests that China's cycle remains weak. However, the construction PMI rose again, and with the official headline manufacturing PMI and input prices also creeping up, for the first time in a few months, there is some risk that the domestic industrial cycle is bottoming. That needs to continue if the increased volatility in the CNY is to be calmed.
Neither consumer confidence nor the labour market were as strong in the latest releases as the previous month. But it does still look like the labour market is starting to tighten, which in turn should help firm up the tentative bottoming out of consumer confidence.
Korea is becoming more interesting, as exports and business sentiment deteriorate further, and inflation expectations start to fall back. It is likely by the end of this year that, for the first time in this cycle, the strength of activity starts to become a concern for policymakers
Next week will be a busy week for data. The highlight is probably Japan, where the BOJ Q3 Tankan, September national CPI and August wage data will be useful in assessing whether there really is a shift towards a tighter labour market and a broadening of inflation pressure. There's also September CPI, PMI and foreign trade data for Taiwan, and September inflation data for Korea.