This is what happened on East Asia Econ this week.
The continued fall in upstream inflation in China is important for the rest of the region: as an example, Chinese input prices tend to lead those in Korea. But the deflationary trend in China should also have implications for the rest of the world.
The current weather-related supply disruptions in Sichuan and elsewhere at most are only likely to pause temporarily the downtrend. A turnaround needs a move up in China's overall cycle, a lift that isn't yet evident.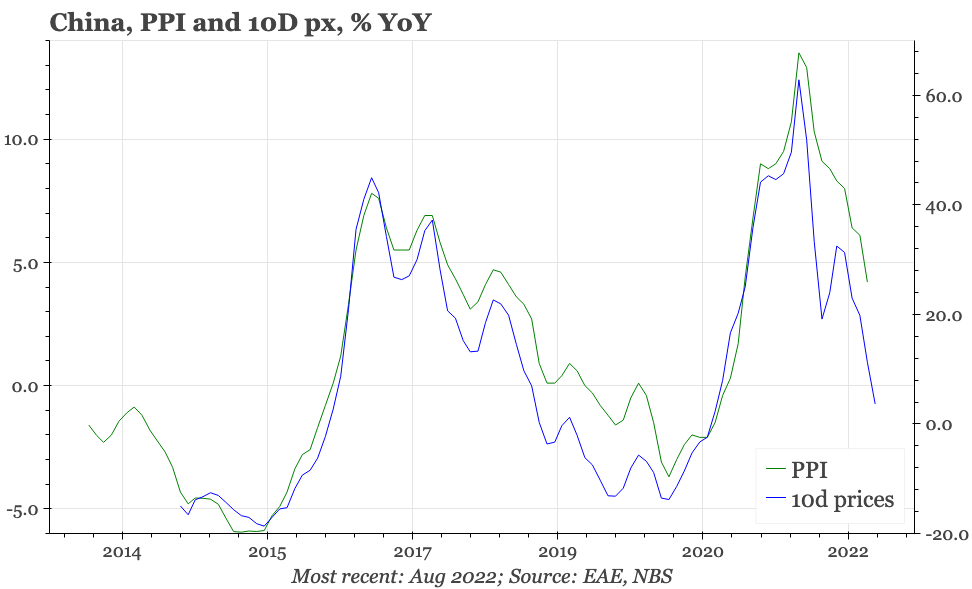 Monday's July cycle data were weak, with all the headline activity numbers being lower than consensus expectations. Nonetheless, the market was still surprised by the interest rate cut on the same day. That cut was at odds with recent rhetoric from the PBC, though the central bank's actions haven't always corresponded with its language. Based on data later in the week, economic reality still points to more monetary easing ahead: industrial prices continue to fall, and liquidity preference isn't rising.
There's been a few data releases in the last few days. Q2 GDP showed economic recovery remains slow and uneven, with downside risks in early Q3. Capex is rising, but really only in nominal terms. Exports are going sideways, though there might be some upside risk from autos. Japan continues to record relatively high inflation, but signs are appearing that it will peak soon. From one perspective, the BOJ is already tightening, with the monetary base contracting again in July.
The focus in the next few days is Korea. The BOK meets on Thursday. Another hike is highly likely, but how many more are in the works is starting to depend a bit more on the data, so the consumer and business sentiment surveys due out earlier in the week will be important. After the cuts last week, the LPR in China is also likely to be reduced tomorrow, with the only real area for surprise being whether the margin of change is limited to 10bp. There's also Taiwan export order and IP data (important for tracking the inventory build-up in tech) and inflation data in Japan.