This is what happened on East Asia Econ this week.
Updating with the latest inputs from July and our model shows the outlook for regional exports continues to worsen. That is particularly important for Taiwan and Korea, given the large share of exports in the economy. In China, the simple export weight isn't so big, but in terms of overall growth external demand has been playing an out-sized role the last year or so, helping offset the collapse of domestic construction activity.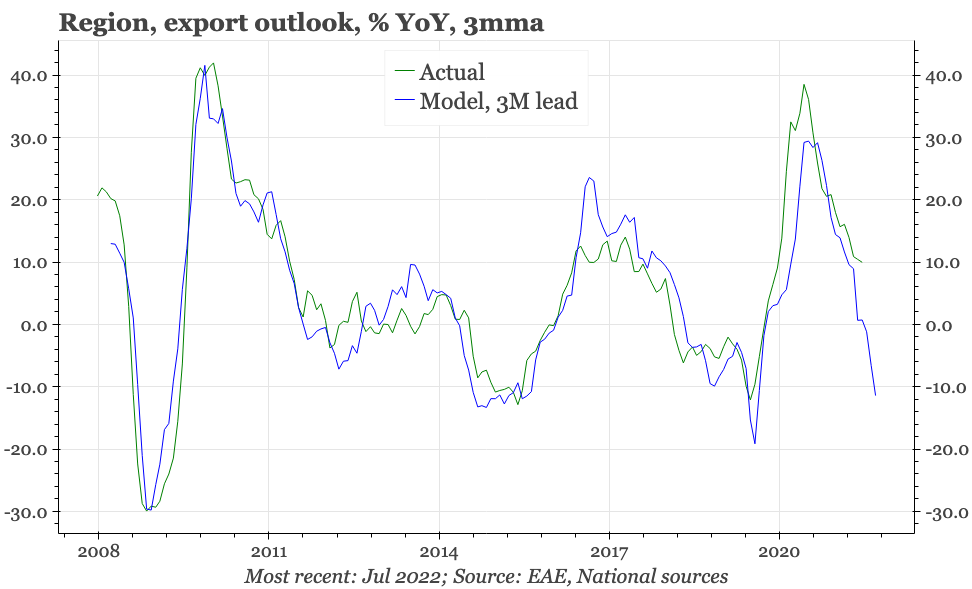 The LPR cuts on Monday were focused on mortgages. That follows Q2, when home loan rates fell at the sharpest pace on record, and yet property remained weak. But whether because of rate cuts or the different construction funding schemes the government has been discussing, financial market sentiment towards property developers did turn up last week for the first time in quite a while. It will be important if that turn is sustained.
Different measures of inflation announced this week show short-term inflation pressure remaining strong. Leading indicators suggest a peak in the next 6M, but that could be wrong if JPY commodity prices take another leg up, or services price inflation in Japan starts to appear.
The consumer confidence survey showed the recent sharp rise in inflation expectations stalled in August. The business sentiment survey indicated activity remaining reasonably firm, but also gave some signs of inflation momentum fading. The BOK on Thursday though remained hawkish, continuing to stress that containing inflation is its number one goal. It will probably be at least another couple of month before the growth picture starts to challenge this stance.
Next week will bring important updates on the cycle, with PMIs in China and Taiwan, and full-month August exports in Korea. Other important data releases will be the consumer confidence survey in Japan, which will show whether rising inflation expectations are still crushing sentiment, and August CPI for Korea.