This is what happened on East Asia Econ this week.
The region's exports in November fell YoY for the first time since 2020. The weakness has so far been clearest in shipments into China, but exports to the US are now starting to fall quickly. With the leads still deteriorating, there is a likelihood of a real air pocket in regional export growth in early 2023, which means pressure for policy loosening.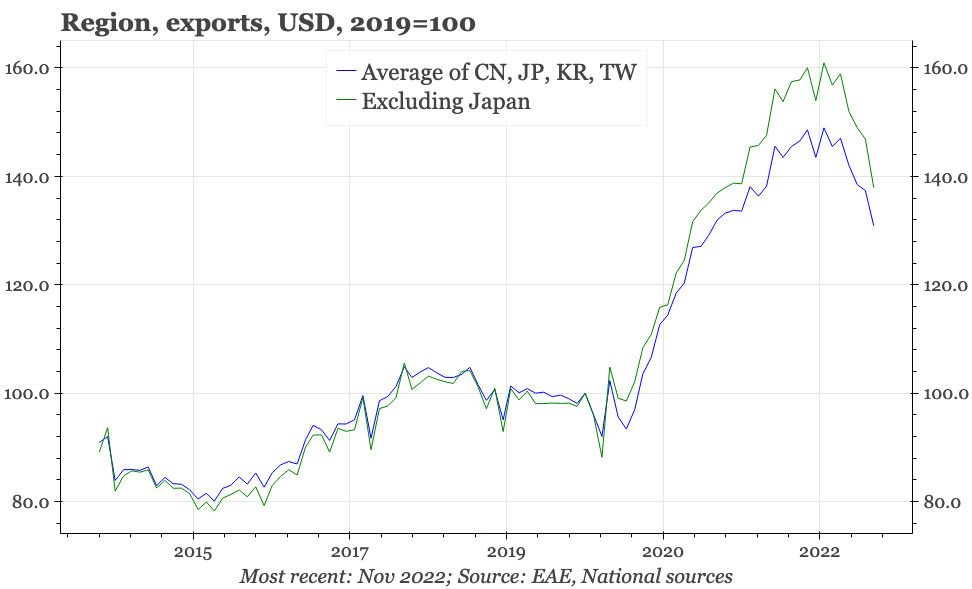 Official data suggest that for the third time in as many years, China's GDP likely contracted in November. There's now a number of reasons to expect recovery in 2023, including exit from zero covid, an easing of the property squeeze, and generally more supportive macro policy, a shift confirmed by this week's Central Economic Work Conference. However, for a sustained pick-up, more policy help is needed for households. The CEWC, pledging to "give priority to restoring and expanding consumption", and promising to increase household incomes "through multiple channels", suggests such support will indeed be forthcoming. But previous offers of support for households has ended up being incremental rather than comprehensive, so the details of what is planned this time will be important.
The BOJ's Q4 Tankan points to GDP growth remaining tepid into early 2023. However, the survey also confirmed other data showing services price inflation is beginning to emerge. That seems likely to at least persist as Asia opens up after covid, challenging BOJ claims that inflation in Japan is all about energy prices.
November data confirmed that employment growth has stalled, but the number of jobs hasn't yet fallen much, being held up by the services sector. That will probably change, given the sharp slowdown in exports and the property market. Falling employment would in turn open up a possible path for BOK rate cuts.
The CBC raised policy rates again this quarter. But the bank's statement wasn't hawkish, and data this week showed the labour market continuing to slacken, with overtime hours falling back. Loosening rather than tightening is more likely in 2023.
The policy highlight next week is the BOJ meeting. That is unlikely to shift policy, though it will be important if the bank starts to take note of the recent rise in service inflation. The data highlights will be 20-day exports data for Korea, Japan national CPI, and labour market and IP in Taiwan.